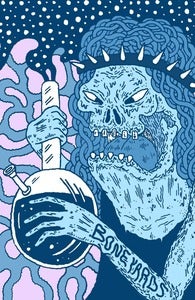 £

4.00
2nd press- Black cassettes/ white stickers.
Boneyards are a breed of new bands emerging from London and Brighton. Kinda the second wave of Garage Rock and D.I.Y. revivalism that hit London around 2009. The same scene that was spearheaded by Male Bonding, Graffiti Island, Mazes, Fair-Ohs etc now has a bunch of young upstarts. Boneyards, Sealings, Old Forest, Gross Magic, Fear of Men, Novella all sharing shows, members and good vibes they are ready to follow in their footsteps.
Boneyards are equal parts garage rock party band and breakneck punk rock rippers. Sounding like every single one of John Dwyers projects over the past 10 years, executed by a bunch of snotty kids playing catchy as hell garage punk.
This release collates their first 2 recording sessions. 8 Tracks in total.
http://boneyaards.tumblr.com/
http://soundcloud.com/boneyards