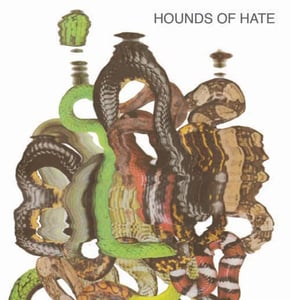 £

4.99
DIGITAL DOWNLOAD HERE: http://italianbeachbabes.bandcamp.com/album/head-anthem-ep
Following on from their debut 12" 'I Like Triangles' on Backyard Records, Italian Beach Babes are proud to announce Hounds of Hate second offering the 3 track 12" Head Anthem.
This London trio drop syrupy euphoria hits for the very late night. Their heavy, low-tech sound evokes, in their words, "a synthetic weave stuffed in a floppy drive" or "vaseline smeared on a Trax record". Hounds of Hate have catalogued diverse movements from their tweens by recreating exact sounds and recording techniques from that era. The conflict is in the naivete of their candid homage opposed by their own pessimism and tendency towards irony.
Their Recent US tour saw Hounds of Hate sharing stages with both Caribou and Fuck Buttons while in the UK their hypnotic live shows are attracting more and more fans each time they play out.
TRACKLISTING:
A1: Head Anthem
B1: Purple Stuff
B2: Phantasy Re-Up
http://www.myspace.com/houndsofhate